Posted by Nicole Thompson - Owner, Paws 2 Purrfection, LLC on 17th Jun 2017
Giving your dog a treat any time of year is fun, but with all the fresh fruit options available, summertime treats can be even better! Here is a list of a few healthy summertime treats that you can make right at home from a few simple ingredients for your dog's nibbling pleasure…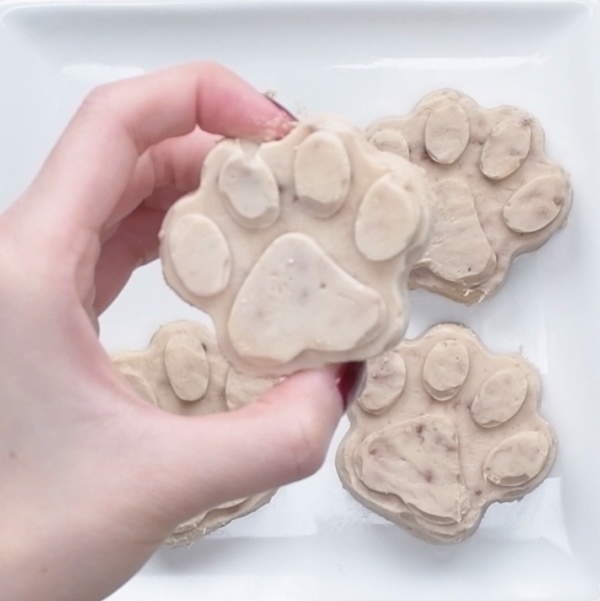 The first thing I would recommend is grabbing some silicone ice molds. They tons of adorable ones available so you can make your dog's healthy homemade treats into all kinds of fun shapes and most can be found right online and are very inexpensive.
1. Frozen Pumpkin Dog Treat Nibblers
During the winter months, it's not always easy to get your hands on great fresh produce, but even in the fall you can always find a can of pureed pumpkin, making it a convenient ingredient year round. There are dozens of different healthy dog treats you can make for your dog with pumpkin, but a great sometime version would be to take a can of pumpkin and blend it with a cup of plain Greek yogurt & a banana. You might need a splash of water to make it a smoother consistency. Pour the mixture into your ice molds and freeze for about a half hour or so before serving. They can be stored in a freezer bag to be kept fresh and cold.
Chobani Greek Yogurt 4 Percent Whole Fat Plain
Libby's, 100% Pure Pumpkin, 15oz Can
2. Watermelon Freezie Bites
Summertime offers up some great fruit options that are healthy and appealing to dogs too! Pureé up some watermelon with some unsweetened coconut milk or coconut water and freeze in the ice trays for a refreshing treat that will hydrate too!
AROY-D 100% Coconut Milk
3. Homemade "Frosty Paws"
An inexpensive way to recreate the popular, however expensive, "Frosty Paws" is to blend a banana, some plain Greek yogurt & a few frozen berries and freeze them up for a nice "frosty" treat!
4. Blueberry Coconut Oil Freezer Soothers
Blueberries are a natural antioxidant and offer the same great health benefits to dogs as they do us. Coconut oil has been proven to show great health benefits to the skin & mental acuity in dogs & people, along with a whole long list of other perks. In your handy ice cube trays, place a blueberry or two (fresh or frozen), then melt down some coconut oil and pour over each to cover. Place in the fridge to set & store in the freezer for a treat later on.
Nature's Way Organic Extra Virgin Coconut Oil, 32 Ounce
5. Peanut Butter & Jelly Bites
Pureé up some frozen berries with a little water & some peanut butter. Freeze in molds and serve these yummy little treats to your pup on a hot day! You can also add in a banana or some plain Greek yogurt for a little extra creamy texture, sweetness & nutrition.
PB2 Powdered Peanut Butter, 1 lb Jar
6. Apple Pie Freezer Tarts
Peel, core & pureé a couple of fresh apples and blend with some plain Greek yogurt, a little sprinkle of cinnamon & a splash of water. Pour into mold and freeze up for a yummy treat.
7. Simple Yogurt Covered Strawberries
Saving the easiest recipe for last a super simple, yet super delightful treat for your dog… simply dip some fresh clean strawberries into plain Greek yogurt or some melted peanut butter. Place on a tray and freeze. DONE! Delish and couldn't possibly be any simpler!
Now I don't know if you noticed, but all of these treats can be made with ingredients you probably already have in your pantry, plus they are all human friendly too. Feel free to join your pooch for a treat on the front porch. Just sit back, enjoy a treat with your best furry friend and watch the sun set in the warm summer sky…
Do you have a great healthy dog treat recipe that you'd like to share?
Send us your ideas and you could win a free gift!
Customized Dog Bone Cookie Cutter & Recipe Card
Wet Noses All Natural Dog Treats Peanut Butter w Bananas 5lb
Paws 2 Purrfection, LLC is a participant in the Amazon Services LLC Associates Program, an affiliate advertising program designed to provide a means for sites to earn advertising fees by advertising and linking to amazon.com